06 janvier 2011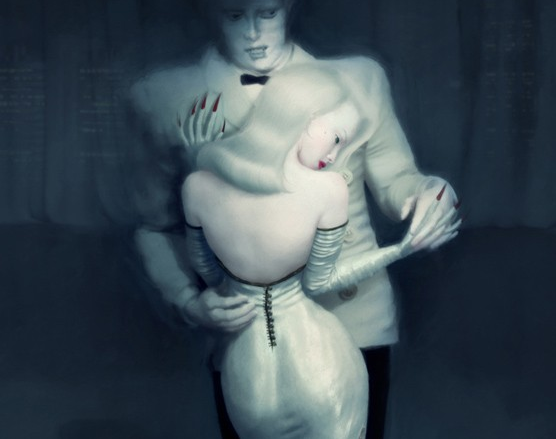 ©Ray Caesar, 2010

Caesar I love you, but you're bringing me down...
Il y a sept ans, quand j'ai découvert Elysian Fields, j'ai acheté l'album qu'ils venaient juste de sortir intitulé "Dreams that Breathe Your Name" et je l'ai écouté encore et encore pendant vraiment longtemps. Sur cet album, il y a "Passing on the stairs" une chanson qui m'avait inspiré poèmes et autres lignes mélodiques à l'époque. Je me suis toujours dit que si je savais faire des films, je tournerais un clip pour cette chanson, dans une ambiance très film noir avec beaucoup de flous et de ralentis. J'avais toutes les images en tête.

Voilà que je découvre à l'instant les premières œuvres de la future exposition personnelle de Ray Caesar à New York, à la galerie Jonathan Levine. Parmi ces images, il y avait celle qui figure ci-dessus. En la découvrant, outre cette sensation de ravissement teinté de douleur, j'ai tout de suite eu l'impression d'avoir en face de moi la première image de ce clip imaginaire, tourné dans ma tête il y a si longtemps.

J'attendais depuis des mois les nouveaux travaux de Caesar, je ne suis pas déçue. Je trouve que la magie opère toujours et même plus. Et j'en veux encore, j'en veux encore plus. J-16 avant le vernissage... get prepared.
Commentaires sur [Art] Ray Caesar x Elysian Fields